family climbing at Harrowall
kids climbing in north LONDON
Are you looking to keep your young ones busy during the weekends and school holidays? Well, you're in luck.
Introducing a range of child-friendly sessions taking place at HarroWall, London's largest climbing centre.
Keep reading to discover what's on at HarroWall and how you can book your child's spot online. Walk-ins available, but we advise booking to guarantee your spot!
Kids climbing the walls at the weekend and during the school holidays?
At HarroWall, we let them…
Krazy Climb (Age 6+)
A fun, child-friendly climbing session, led by experienced instructors. Scale themed walls and conquer them all, while protected by a harness and auto-belay system.

Krazy Climb lasts for

75 minutes, including a safety briefing and fun warm-up.

Parents are welcome to relax with a coffee or some food in our on-site café.

£21 per child. Sessions are in demand and we can't promise there'll be space for walk-ins.
Caving Adventures (Age 6+)
October half-term special, 20% off with code CAVING20

Explore Europe's largest indoor caving system. Crawl, slide, and squeeze through a 170m-long realistic network of underground tunnels. Sessions are instructor led and with plenty of fun games.

Caving lasts 60 minutes, and includes a safety briefing, kitting up in knee-pads and helmets, and a warm-up.

Parents are welcome to relax with a coffee or some food in our on-site café.

£17 per child.
New Heights (Age 8+)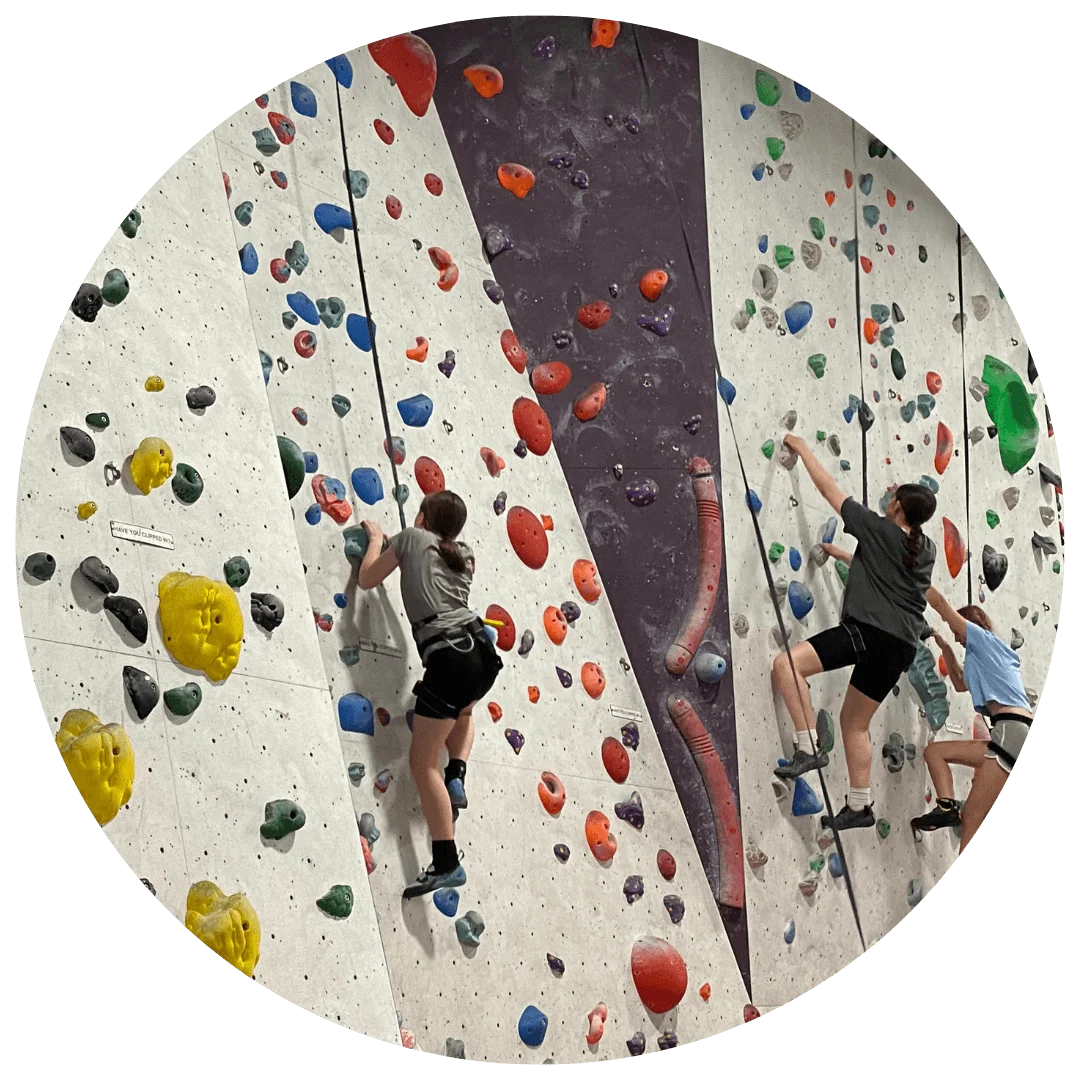 Ticked off a Krazy Climb and looking for a new challenge? Join New Heights and tackle Auto-Belay walls, the perfect introduction to even more climbing!

New Heights lasts 60 minutes, and includes a safety briefing, kitting up in climbing shoes and harnesses, and a warm-up.

Parents are welcome to relax in our on-site café.

£19 per child. A minimum of two participants are required on sessions, so bring a friend!
Junior Bouldering Clubs (Age 7+)
Bouldering is a discipline of climbing that takes place on low-height walls above safety matting, with plenty of fun and games involved.

Sessions offer a fun introduction to the sport of bouldering, which featured in the Olympics for the first time recently!

Clubs last for 60 minutes. Parents are welcome to relax on-site during sessions.

£19 per climber. Bouldering Clubs are very popular, so book today to guarantee your spot.
Birthday Parties and Special Events
Krazy Climbing with catering and function room options, suitable for birthday parties for those aged 6+!
Bespoke, personalised packages for larger groups.
Hard and Soft Play
A hard play and soft play area (not pictured), perfect for young children to explore while their siblings climb!
Adults can supervise children in these areas at a ratio of 1 adult to 4 children.
£5 for those aged 4+, free for those aged 0-3.
No advance booking necessary. A time limit of 90 minutes will be applied during busy periods.
Term-time After School and Weekend Clubs for Kids
Next stop the Olympics…?
Is your child ready to take their climbing to the next level? Perhaps all the way to Olympics… Then NICAS might be for them!
NICAS stands for National Indoor Climbing Award Scheme and is a UK-wide scheme designed to promote climbing development through structured learning and accredited individual achievement.
NICAS sessions are aimed at children 7-11 & 11+ and are grouped into regular weekly sessions that run alongside local school terms.
This means that children (& parents) can continue to learn alongside their new climbing friends at the same time each week for multiple, and continuous, school terms!
Promotion starts two weeks before each school half-term and is heavily in-demand, with most sessions selling out.
If you're interested in booking on, hit the button below.
While the kids climb…
Get involved!
Climbing's not just for kids! There are plenty of ways you can get involved with the action at HarroWall during your visit.
Take part in sessions alongside your children (just add yourself as a participant when you book on), or even sign up for an Induction Plus for an introduction to the sport of bouldering.
By the end of the session you'll have discovered a new sport and will be ready to take our Bouldering Supervisor Assessment, which will allow you to supervise up to two children during independent climbing in HarroWall.
HarroWall Café
If climbing sounds too much like hard work, we've got the answer. Put your order in at the kitchen, sit back, and enjoy a great view of the action in the while the children conquer the walls.
We serve great coffee, tasty treats, and freshly cooked food made to order onsite, with options for adults as well as post-climb food for the kids.
Check out the menu below, and keep an eye out for specials on the day.
How to find HarroWall
Address:
Unit 2a & 3a
Neptune Trading Estate, Neptune Rd
Harrow
London
HA1 4HX
Closest tube:
Harrow-on-the-Hill Station – 7 minute walk
Limited parking available onsite