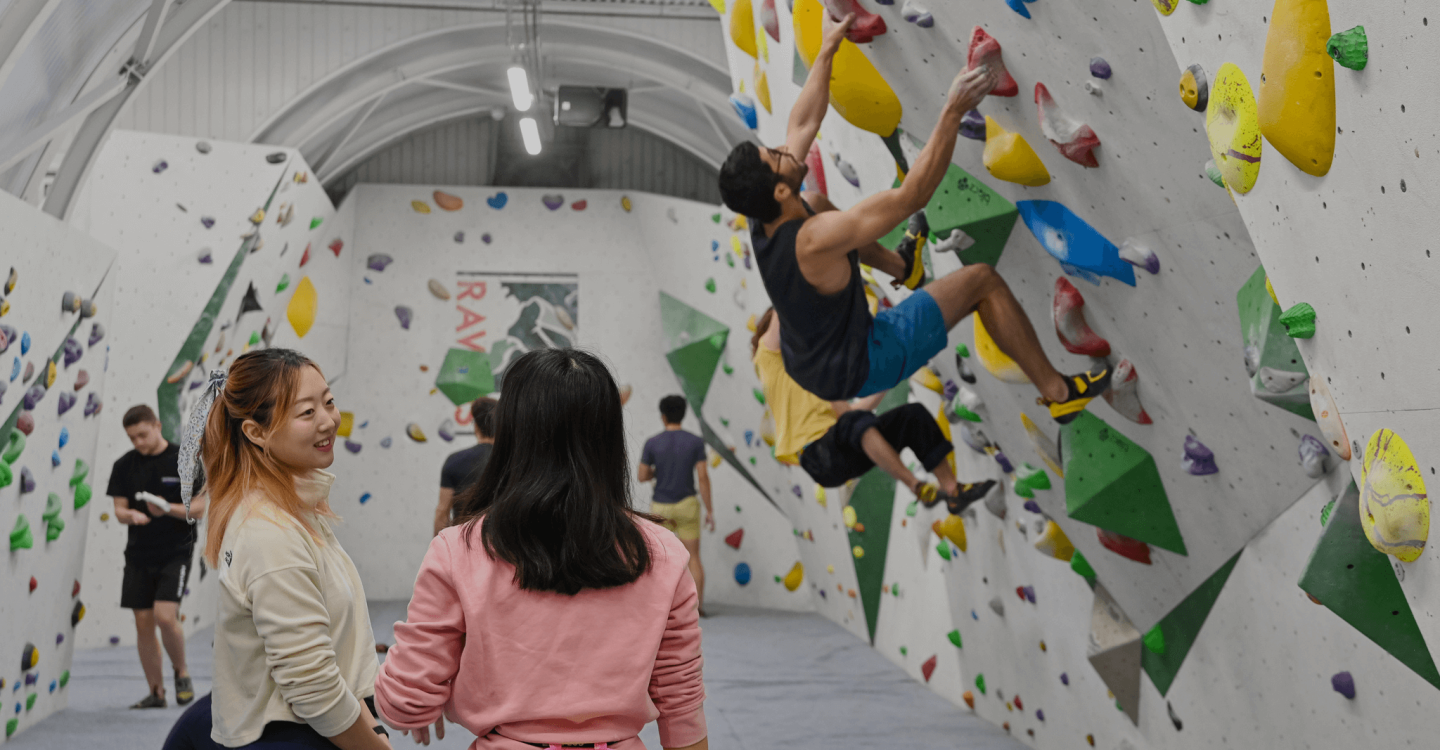 Indoor Climbing in West London
Start rock climbing at RavensWall climbing centre, located next to Ravenscourt Park tube station.
Hit the buttons below to find out more about climbing for first timers, families with kids, or regulars.
Indoor climbing centre next to Ravenscourt Park tube station, in the Hammersmith area
Outdoor wall, training boards, and free weights
Experience West London's friendly climbing community
Opening times

First time climbing at RavensWall?
What is bouldering?
Bouldering is a type of climbing that takes place on low-height walls, without the aid of ropes but with crash mats underneath.
It emphasises problem solving and technique, while also providing a full-body workout. The perfect blend of a fun mental and physical challenge!
Still got questions or want a bit more advice ahead of your first visit? Get RavensWall's FREE Guide to Climbing delivered to your inbox, packed with tips, tricks, and a deal or two…
How do I get started at RavensWall?
Climbers over the age of 18 are free to climb independently from their first visit to RavensWall.
New climbers simply need to watch a short induction video and fill out a pre-registration form, which you can do either online or in-person (we'd recommend online to save time on the day!)
Then all you need to do is turn up, check in at reception, and climb! Easy.
Plus, opt-in to the LCC newsletter during registration and enter into a weekly draw to win a £25 Arc'teryx gift voucher!
Want a bit more guidance during your first climb? We offer a couple of instructed sessions:
For first-timers
Induction Plus Sessions
One hour session with a qualified instructor.
Perfect for your first ever bouldering session. Shoes, chalk, and instruction provided. Just turn up ready to climb!
£25 per climber
For groups and families
Private Coaching
One hour private session with an instructor.
Up to 6 participants, ages 7+
Prices start at £45, £12 for additional climbers
Find RavensWall and get in touch
Arch 105
Ravenscourt Road
London
W6 0UQ
Ravenscourt Park Underground Station
Internal Cycle Storage
Parking Nearby