London's Largest Indoor Bouldering Centre, in North West London
Discover climbing at HarroWall, located a short walk from Harrow-on-the-Hill Station.
London's largest bouldering centre and the capital's only BMC National Performance Centre.
Hit the buttons below to find out more about climbing for first timers, families with kids, or regulars.
London's largest bouldering centre, filled with hundreds of blocs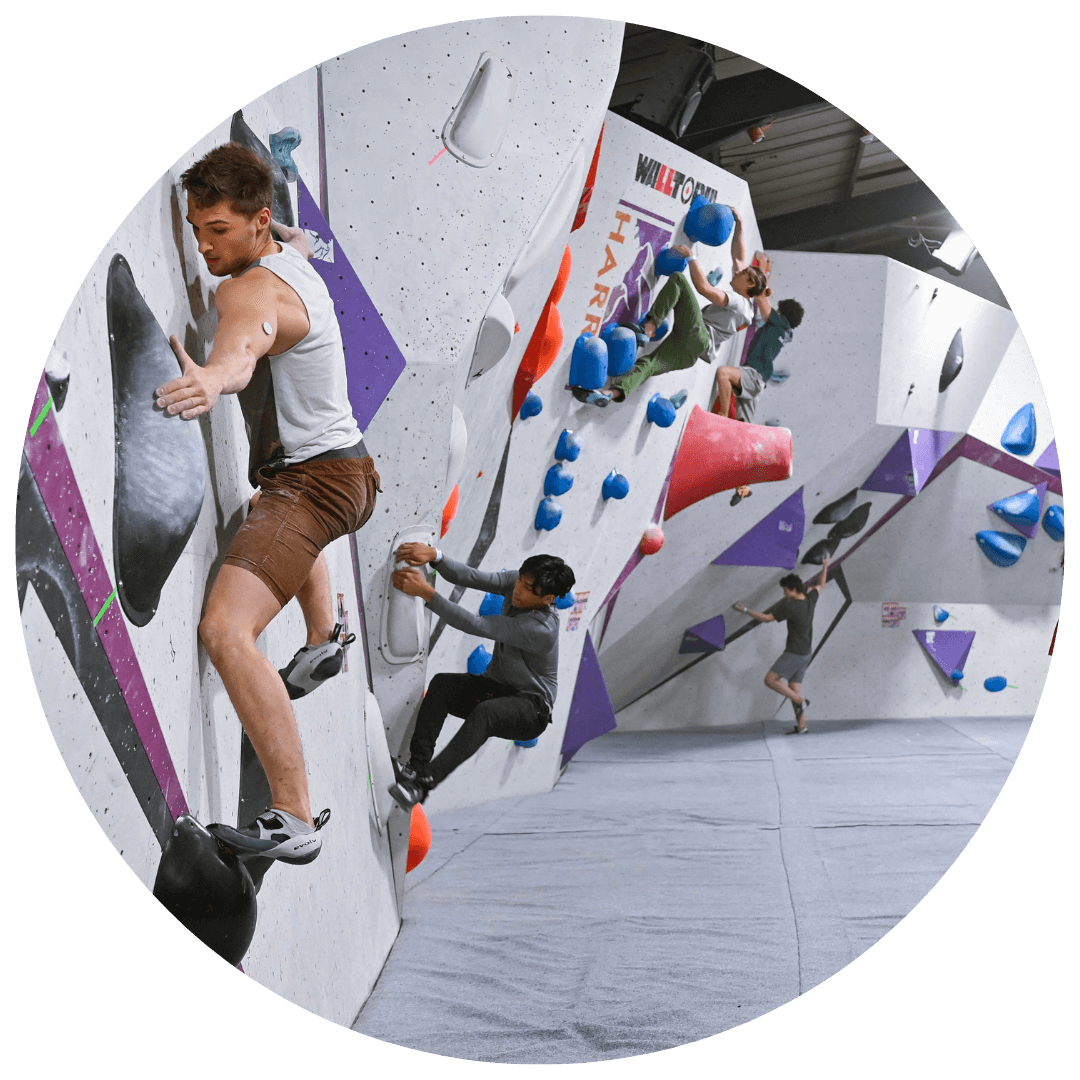 Training boards, free-weight gym, cafe, shop, and more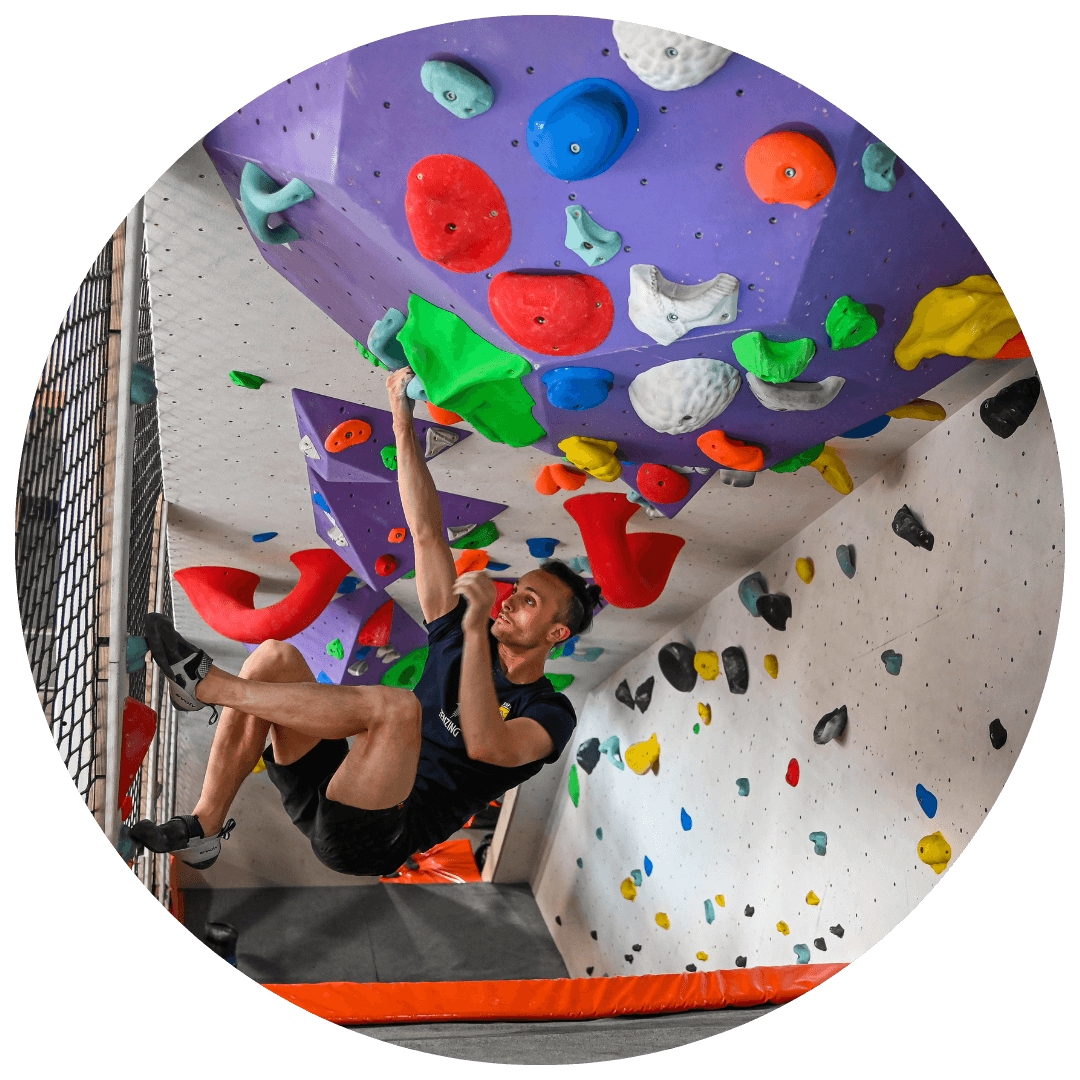 A friendly, welcoming climbing community in north-west London
Opening times

Did you know? You can now pre-book your £6 Super Off-Peak sessions! Simply self check-in from 8pm using your registration card and don't join the queue.
First time climbing at HarroWall?
What is bouldering?
Bouldering is a type of climbing that takes place on low-height walls, without the aid of ropes but with crash mats underneath.
It emphasises problem solving and technique, while also providing a full-body workout. The perfect blend of a fun mental and physical challenge!
Still got questions or want a bit more advice ahead of your first visit? Get HarroWall's FREE Guide to Climbing delivered to your inbox, packed with tips, tricks, and a deal or two…
How do I get started?
Climbers over the age of 18 are free to climb independently from their first visit to HarroWall.
New climbers simply need to watch a short induction video and fill out a pre-registration form, which you can do either online or in-person (we'd recommend online to save time on the day!)
Then all you need to do is turn up, check in at reception, and climb! Easy.
Plus, opt-in to the LCC newsletter during registration and enter into a weekly draw to win a £25 Arc'teryx gift voucher!
Want a bit more guidance during your first climb? We offer a variety of instructed sessions:
For first-timers
Bouldering Basics Sessions
One hour session with a qualified instructor.
Perfect for your first ever bouldering session. Shoes, chalk, and instruction provided. Just turn up ready to climb!
£24 per climber
We're running a special 2 for 1 offer! Book a spot for you and a friend and one can climb for free!
Use code BOULDERBUDDY when booking two, four, or more spaces!
Those who want to get good, fast
Bouldering Foundation Course
Weekly 90-minute instructed sessions, running across 3 weeks.
Perfect for those who have started bouldering and are keen to learn more about movement and technique, and quickly move up through the grades
£70 per climber
For groups and families
Private Coaching
One hour private session with an instructor.
Up to 6 participants, ages 7+
Prices start at £45, then £12 per extra climber
Tour of the Centre
There's so much to do at HarroWall, and the only way to experience it properly is by visiting in person. But, before that first climb, take a virtual tour of the centre to get an idea of what's on offer at our premium bouldering wall in North London.
Explore the centre and see if you can discover every climbing wall, training area, gym, and chill-out space (trust us, there's a lot).
And once you're done, hit the button below to pre-register today ahead of your first visit to HarroWall. We'll see you soon!
Find HarroWall and get in touch
Unit 2a & 3a, Neptune Trading Estate
Neptune Road, Harrow
HA1 4HX
Short walk from Harrow-on-the-Hill underground station
Secure Internal Cycle Storage
Limited Parking Nearby